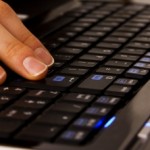 We've all been there. A term paper is due tomorrow. A report that needs to be on your boss' desk before you leave.  An email that just has to be written, saying what you don't want to say… and of course it won't write itself will it?
Wouldn't it be nice if all these things COULD write themselves?
The fact is, they won't. Writer's block plagues us all from time to time – whether you're a student, a business person working on your blog, or even me, a professor and someone who's been writing documents, books, articles, speeches… you name it… for decades.
There's things you can do to jumpstart your creative juices to get your blog topics going. Here's a few:
Draw inspiration from social media.  "Repurpose" your Facebook posts and Twitter tweets.   Take the time to observe what posts and tweets are inspiring a lot of response – it may be a good topic for you to write about.
Make a list; check it twice.  When I get ideas to write about – a good book topic, a blog post, whatever, if I don't have the time to work on it right that minute, I write the topic down in my "idea file."  That way – when I have the time to work on it, I haven't lost the idea.
Show me the steps. People love how to's. Give them the steps to do something faster or easier and you've made their day. From "how to quiet a colicky baby" to "how to land a job interview" people are always looking for ideas to get what they want or need done. Consider what you didn't know when you first started out. What questions do you answer for customers? friends? employees? These could be great topics.
News. Are you the person who is always keeping up on the latest trends, break throughs or topics in your industry? If so, this might be a great source of inspiration for your blog. But that doesn't mean just merely parroting what news or tidbits you find in your industry trade pubs. Add value – help your readers apply it to them: how can they use the news you've just shared?
Look for other angles or segments of the story. Topics aren't usually so narrow that there's no other way to address them. So when you're combing through other people's comments or responses to blog posts, see if there might be another elment or factor to the story. For example, if you are writing about home remodeling, sure there might be lot's of things to talk about. But also consider things like hiring it out versus doing it yourself. Green materials – are they worth it? Containing costs. When is a remodel worth the investment.
The influenceof others. Pay attention to other topics that tangentially affect yours. So for example, if you write about home remodeling, you might want to pay attention to the latest fashion trends to see what the "hot colors" are going to be.  Pay attention to legal changes – how might changing attitudes about environmentalism affect your upcoming remodel. Help your readers peak around the corner of what might be coming if you can.
Multipurpose.  If you are working on a column, a white paper, or customer document, consider how you might be able to use the same research to create other content for your website or blog.  So if you are developing a customer check list as a downloadable for your site, consider expanding the tips to be included later as future blogs on your site.
(BONUS TIP: when you do – be sure to include a call to action at the end of your blog post that you have a free downloadable checklist that can help your customer. Pointing your reader to other great pieces of information on your site is a great service to them!)  
Change up your approach. We used the example earlier of writing "how to's" columns. But there's other ways o cover information as well that can provide a fresh spin on the same content. Think: Problem/solution. Top 10 ways to…. Remedy for [fill in blank]. Pros and cons to [fill in blank.]  Easy ways to [blank].  A Guide for [Topic].  Simple ways to [fill in the blank.]
Interview other experts.  Interviews are great ways to expose your readers to more resources.  And rather than drawing your readership away from you (to your interview subject) interviewing other experts bolsters your own proof of expertise (think the old saying: birds of a feather flock together. If you're iterviewing an expert you must be pretty knowledgeable too.)
Revisit the past. If you previously created some popular content, see where you can expand it or possibly target a certain aspect of it in finer detail.
 Make them laugh. People use the Internet for information, but also for entertainment. You don't always have to come up with earth-shattering information to impress your audience. Have fun, inspire them or make them laugh. Remember, we all make mistakes; don't be afraid to share your own blunders, goofs or laughable learnings with your readers.
 Use reprint articles with a byline and link to the author. This means finding articles at places like EzineArticles.com where you can pick up articles that include an author's byline, plus a link back to their website. This is my least favorite way of finding content as the quality is sometimes hard to find and it leaks traffic to other website, but if you find something you really find to be worthwhile…go for it.
Use reprint articles provided by affiliate programs.  Here's a better alternative to using simple reprint articles described above. Many affiliate programs will provide content and instead of linking directly to another website, you get to use your affiliate link, so you get credit for any sales generated by your publishing the article.
Invite people you respect to write a guest blog. Maybe you have experts you work with regularly who are knowledgeable about a different facet of your business. Or maybe you really like a new book your favorite author just published and it would help your readers.  Invite that expert or author to post a blog on your site.
But in the end, remember that writing is a skill. Just like a rookie baseball player doesn't hit it out of the park on the first time at bat, so too it will take you time to get into a real writing routine that's successful. And like with all things, good writing requires some planning and work.  But there are plenty of great reasons to do it!
Category: Blogging, Creativity, Writing